search our directory
Is Iraq the next holiday hotspot?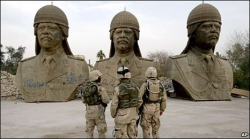 After more than six years of conflict Iraq seems an unlikely place for a holiday. But could its status as the birthplace of civilisation see tourists flocking? For most travellers it will, undoubtedly, be years before Iraq becomes a destination of choice. But as the country stabilises its advocates believe its potential is beginning to emerge. At one time Iraq was a regular stop for British travellers. Early flights to imperial India refuelled in the port city of Basra. But the fact that all the country's major cities have been ravaged by years of warfare now make it a more difficult sell. Even so, for the first time in a decade, the head of Iraq's tourism board is in London to attend the World Travel Market to promote the country as a holiday destination. "Tourism will help regenerate Iraq," says the tourist board chairman, Hammoud al-Yaqoubi. "We want to prove that Iraq still exists and maybe we can change people's minds about it." But Foreign Office advice is not to travel to most of Iraq at all. But for the intrepid there is a wealth of cultural monuments. Known as the birthplace of civilisation, Iraq has thousands of historic sites of note. Landmarks include the ancient cities of Ur and Babylon. According to some historians, the Garden of Eden is 50 miles (80km) north of Basra. Inside Iraq, there are those who believe, despite the obvious challenges, that tourism has the potential to transform the country. It will help to rebuild confidence and create economic opportunities. There is one British holiday company already offering package trips to Iraq. Hinterland Travel, based in Yorkshire, is run by Geoff Hann who has been visiting the country for 30 years. He has not been able to offer trips since October 2003 because of the escalation in violence, but after restarting tours in March he has led four successful expeditions there. There are at least another five planned for 2010. "The mood in Iraq was upbeat, vibrant and improving daily," he says of last month's tour. "The security situation ensured that we could see almost all of the important sites, but for the foreseeable future all visitors should pack some patience and flexibility." Starting from £1,600 per person for a nine-day tour you can take in some of the major cultural and natural heritage sites. Iraqi treasures And, Iraq has some of the finest in the world including some of the most sacred places in Islam. Baghdad has a host of historical riches and in Samarra the golden-dome of al-Askari shrine is a must-see. The region of Basra is, some would say, the most beautiful part of Iraq. Years of war and decades of neglect during Saddam Hussein's regime have taken their toll. The Baghdad Museum was looted after the 2003 invasion and US troops were accused of harming artefacts when they built a base at the site of Babylon. But restoration is starting and tourist accommodation is getting better. "There are enormous things that can be done in Iraq, cruise ships into Basra for example with short tours from there," says Mr Hann. "There's an Assyrian site, a Saddam palace site, but they require refurbishment, huge sums of money and a great deal of thought about how to do it for the best of the country." For many travellers, he goes on, there is even an appeal in Saddam-era relics, such as his gaudy palaces, or the numerous vast sculptures of the former dictator. "There's the added spice of the Saddam era, the wars, the political changes, the whole ambience of the thing really attracts people," says Mr Hann. Security risks There might be plenty to see, but for many tourism experts staying safe will be one of the biggest challenges for visitors. "We provide a certain amount of security, but it's limited," says Mr Hann. "At the end of the day how much security can you give somebody anyway and do people wish to go on a holiday where they're surrounded by armed guards? Not really, it's not a holiday if you do that." Foreign Office travel advice says; "The security situation remains highly dangerous with a continuing high threat of terrorism throughout the country." Other risks include "violence and kidnapping targeting foreign nationals". And, according to the Association of British Travel Agents (Abta) none of their members will go against that advice by offering trips to the country. Tourists there will also be unable to get travel insurance. "It's not just being caught up in a bombing, you wouldn't be covered if you fell ill or had food poisoning or your bag stolen," says Sean Tipton from Abta. "Travelling to a country without insurance where there is the risk of a number of things going wrong is very foolish indeed." Hardened travellers A history of turmoil has not stopped other countries affected by war, such as Vietnam, Cambodia and Croatia, becoming popular tourist spots. But it can take years after the last hostilities end to become part of the mainstream tourist trail. "People who go to Iraq are adventurers. They will come back to their country of origin and they will tell the truth about what is going on there and this will encourage people to come," says Mr Yaqoubi. But for many, tourists are not going to be rushing there any time soon. "It wouldn't be attracting large numbers of package holiday-makers like Croatia has done. It would be a different market," says Mr Tipton. "Certainly from our perspective until the situation improves there shouldn't really be any tourists going to Iraq at all."